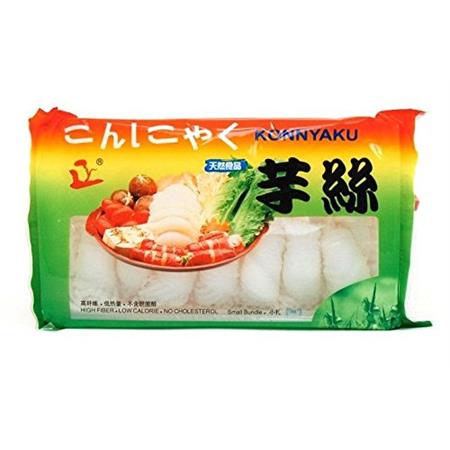 Konjac Noodles 228g
Category: Japanese & Korean Noodles
$4.25
Virtually calorie-free noodles.
A gluten-free alternative to noodles or pasta. Made from konjac yam, these noodles have a chewy texture with a little bite, as well as the unique quality of soaking up the flavours of the dishes with which they are used. Try using shirataki noodles in sukiyakis, stir fries, and other noodle dishes.
Konnyaku and shirataki noodles are among Japan's best-kept dieting secrets. These gluten-free blocks of konjac yam have a satisfyingly chewy texture perfect for bulking up stews, hotpots and noodle dishes, but contain less than 10 calories a serving.
Shirataki noodles are often eaten by Japanese people when they are hoping to shed some unwanted pounds. As shirataki contain next to no calories and are excellent at absorbing the flavours of whatever food they are cooked with, they are ideal for weight loss plans. They also contain no wheat, making them equally ideal for anybody eating gluten-free.
How To Use
Shirataki noodles are a healthy replacement for all types of noodles or spaghetti.
•Drain and rinse the noodles, add to sauces, stir-fries or soups and cook for 2-3 minutes or hot pots 1-2 minutes before serving.
Also known as konjaku, konnyaku potato, shirataki, devil's tongue, voodoo lily, snake palm, or elephant yam.
Product of China
Related Products
© Asian Food 4 U. All Rights Reserved. Web Design by KOOK