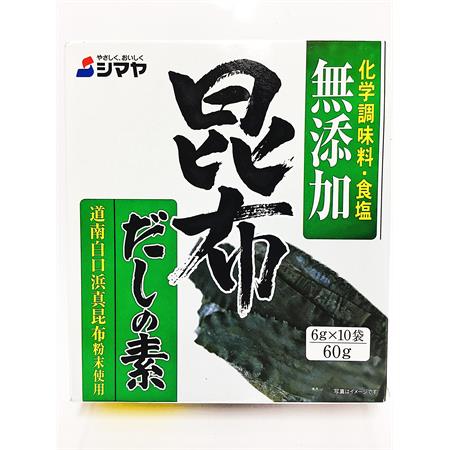 Shimaya Kelp Kombu Dashi Powder No MSG 60g
Category: Bonito | Dashi | Soup Base
$9.66
The quickest way to get mouthwatering flavour into your Japanese cooking is now MSG-free! This box contains 10 sachets of instant dashi soup stock with kombu kelp for a milder umami flavour. With no added salt or artificial flavours, this is the quickest, most health-conscious way to get that authentic Japanese flavour into your miso soup, your Japanese noodle dishes, your oden hot pots, and more.
Dashi in Japanese cuisine is similar to chicken or vegetable stock in Western cuisines, as it is what provides the flavour base for many Japanese dishes. Authentic dashi made at home involves stewing umami-rich ingredients such as bonito fish, kombu kelp seaweed and shiitake mushrooms in water and allowing the flavours to infuse.
How To Use
For a variety of many different dishes:
• Suimono Soup: Combine 1 tsp with 300ml water.
• Tsuyu for covering noodles: Combine 1/2 sachet with 500ml water.
• Oden soup: Combine 1/2 sachet with 500ml water.
Product of Japan
Related Products
© Asian Food 4 U. All Rights Reserved. Web Design by KOOK