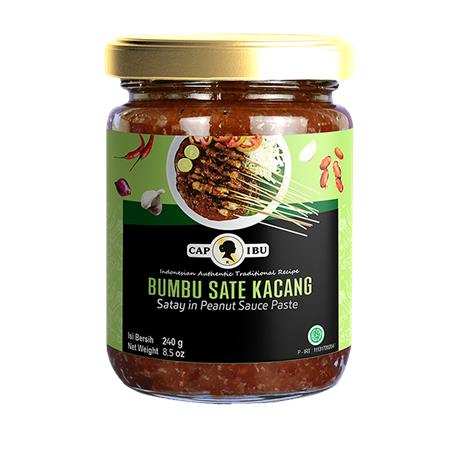 Cap Ibu Bumbu Sate Kacang 240g
Category: Satay Sauce & Peanut Sauce
$5.36
Satay in Peanut Sauce Paste
Ingredients :
Peanut, Shallot, Garlic, Chilli, Sugar, Salt, Vegetable Oil, Flavour Enhancer (E621), Preservative (E202).
Cooking Directions:
Marinate 750 g chicken cubes, 25 g garlic paste, 85 ml sweet soy sauce, and 70 ml vegetable oil then leave for 1 hour and thread onto 40 skewers.
Grill satay and smear occasionally with oil/margarine. Set aside.
To Make Satay Sauce:
Mix 1 jar (240 g) of this seasoning, 50 ml sweet soy sauce, and 100 ml hot water then stir evenly.
Pour sauce over the satay, serve with Indonesian rice cakes and leprous lime juice.
Store in dry place with lid secured. Refrigerate after opening to extend shelf-life (recommended).
Product of Indonesia
Related Products
© Asian Food 4 U. All Rights Reserved. Web Design by KOOK