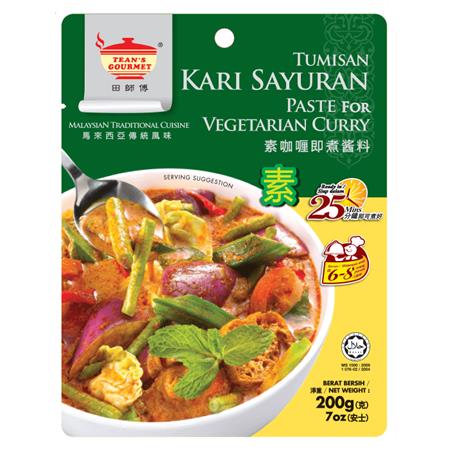 Tean's Gourmet Vegetarian Curry Paste 200g
Category: Assorted Products
$4.25
Vegetarian Curry Paste
Mix 1 packet of TEAN'S GOURMET Vegetarian Curry Paste (200g) into 500ml of water. Bring to boil.
Put in 100g each of pre-sauteed brinjals (eggplant), long beans, and lady's fingers (okra) together with 200g fried bean curds and 300g cabbage. Cook for another 5 minutes.
Add in 200ml coconut milk, stir well and bring to boil. Serve hot.
将1包田师傅素咖喱即煮酱料 (200克) 以500毫升水搅均匀及煮滚。
加入预先略炒好的茄子,长豆及羊角豆(秋葵)各100克 , 以及200克炸豆腐和300克包菜,再煮5分钟。
Product of Malaysia
Related Products
© Asian Food 4 U. All Rights Reserved. Web Design by KOOK