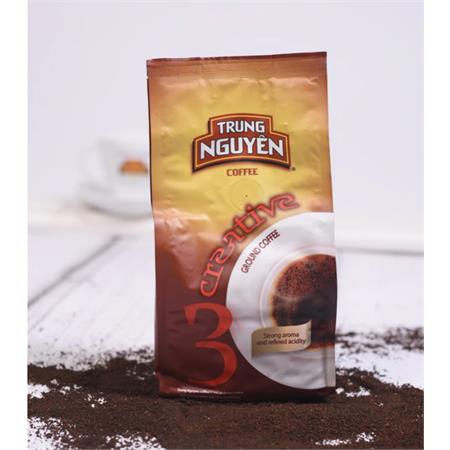 Trung Nguyên Creative 3 Coffee 250g
Category: Coffee
$7.20
Select Buon Me Thuot Highland Arabica. Se means "Sparrow", the name given to this indigenously developed varietal, grown only in Vietnam. A sweet, refreshing coffee with no bitterness. Floral and vanilla notes; extremely versatile.
The Trung Nguyen Arabica Se is one of the world's most select and superior Arabica coffees. The Se stands for "Sparrow". The Sparrow Arabica is a cultivar grown exclusively in Vietnam and is noted for its mild acidity and superb balance. We often describe it as "what a donut-shop coffee wants to be when it grows up"!
If you object to the flavors in the new hybrid Arabicas, which can be redolant of licorice, lemon or barley, you will enjoy the fully old-world taste of this fine Arabica.
The Arabica Se is such a great combination of mild acidity and balanced aroma and taste that it is well suited as an all-purpose coffee, served any time of day and excellent for icing.
It's also a perfect dessert coffee, being a little sweet and wonderfully rich, so it isn't eclipsed by your Tiramisu. Iced, it should be brewed strong. It's impossible to make the Se bitter by brewing, so use it in any brewing method and feel free to double the amount of grinds or even make it Turkish-style if you begin with whole bean and grind it fine.
This coffee is also a good candidate for cold brewing, where it picks up floral tones and becomes a low-acid but flavorful coffee when used in an iced coffee concentrate.
The Se works well in any brewing method, including even basket filter drip machines.
Product of Vietnam
Related Products
© Asian Food 4 U. All Rights Reserved. Web Design by KOOK