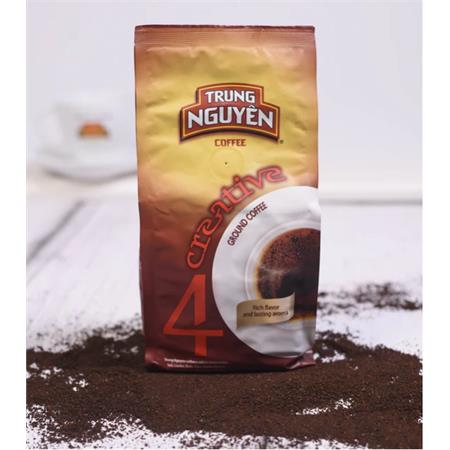 Trung Nguyên Creative 4 Coffee 250g
Category: Coffee
$7.95
Blend of culi (single, unsplit, peaberry) beans of Arabica, Robusta, Chari and Catimor. Strong, deep, dark and complex.
The quintessential coffeehouse favorite, and Trung Nguyen's proudest traditional multi-bean blend.
This coffee is a gourmet's dream blend. Trung Nguyen puts together carefully selected Culi (unsplit "peaberries") from 4 different varieties. A lot of care and balancing goes into this coffee, and Trung Nguyen is rewarded by many loyal Vietnamese drinkers who proclaim this their favorite brew.
There are a lot of complex flavors in this coffee, and it also runs a little to the bitter and acid tastes, which is a plus for people who want a full-bodied coffee experience. If you like strong coffee, double up on this one and go for the gusto! In winter this is a comfort coffee, with its rich, appetite-awakening flavor and aroma. In the summer it ices well and picks up different flavor tones.
Many restaurants and coffeeshops serve this coffee as their one, representative "Vietnamese coffee" in the Phin single-serving filter. Sometimes fans of this coffee will double it up in the small filter and drink it espresso-strength.
Culi-based coffees have an edge to them that is lost if stored in the fridge as iced coffee concentrate. Drink it fresh... and brew it right onto ice if you can. It's a sipping coffee when made strong, delightful in every taste.
Interestingly, the Creative #4 Premium Culi is one of the more successful coffees for brewing in home drip machines, and it works well in Bunn-style office carafe machines. At one level tablespoon per coffee you get a mild but broad taste. At 1.5 or 2 tablespoons you get that intense flavor it is famous for.
As with most Vietnamese coffees, if you can control the temperature you can get different effects. At 185° brewing you accent all the extra flavor tones and the chocolate/vanilla hints. At 205° you lose those flavor tones and get a more American-style coffee.
Product of Vietnam
Related Products
© Asian Food 4 U. All Rights Reserved. Web Design by KOOK