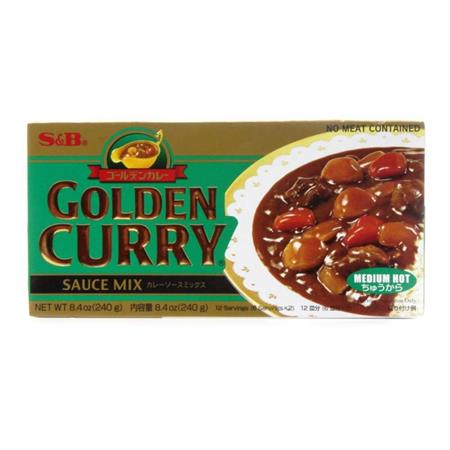 S&B Golden Curry Sauce Mix Medium Hot 240g
Category: Curries & Stew Mix
$8.23
Exquisite curry goodness.
Enjoy distinct Japanese curry flavours with this Medium-Hot Golden Curry. As easy to use as gravy or chicken stock, this curry roux has a slightly sweet flavour and enough spice to tickle the tastebuds without blowing your head off in the process. This pack contains enough delicious and completely vegetarian curry sauce for 12 servings.
Curry was introduced to Japan by the British during the Meiji era of the 1800's. It has evolved within Japan since then, taking on a unique flavour of its own (milder and a little sweeter than most Indian varieties), and become one of the most commonly utilised flavours in foods such as bread and udon noodles, as well as a much-loved dish in its own right all over the country.
How To Use
• Boil water in a pan.
• Add vegetables such as potato or carrot, and cubes of any meat or protein you fancy.
• Break up curry cubes and add 1 cube per person.
• Stir well and then serve with rice.
Product of Japan
Related Products
© Asian Food 4 U. All Rights Reserved. Web Design by KOOK