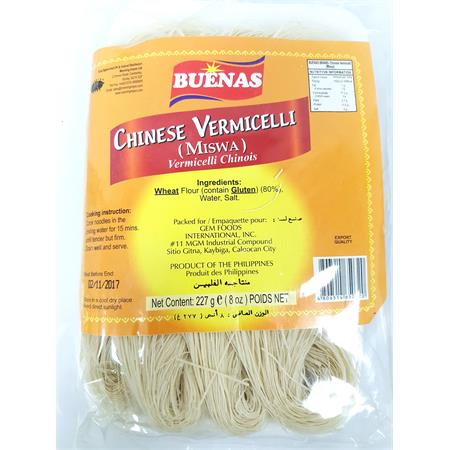 Buenas Miswa Chinese Vermicelli 227g
Category: Assorted Noodles
$2.30
These noodles are thin like vermicelli, which means they tend to form a large mass that is used to bind other ingredients in a dish together.
Also called: Mee sua, miàn xiàn, mein sin, gong miàn.
Shape: Usually sold dried. The noodles are round and very thin, like angel hair, but pale yellow. Usually 10 inches or longer.
Texture: Chewy but delicate due to their thin diameter. These noodles hold sauces well.
How they're used: Boil them to soften, then stir fry quickly with light ingredients like shrimp and vegetables. They brown easily and are perfect for picking up smoky wok hei flavor.
Product of The Philippines
Related Products
© Asian Food 4 U. All Rights Reserved. Web Design by KOOK