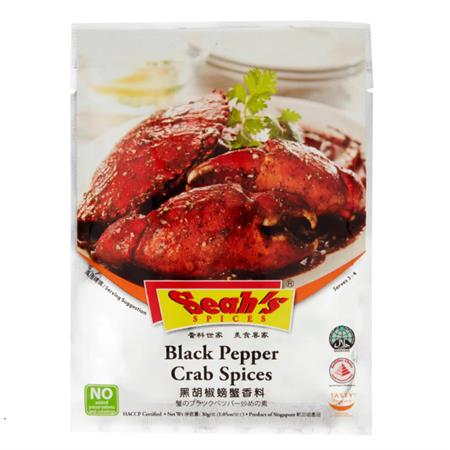 Seah's Black Pepper Crab Spices 30g
Category: Malaysian & Singaporean
$3.08
A taste of Singapore with your favorite black pepper crab. A yummy sizzling dish that makes you ask for more.
Preparation
1 packet of spices
1kg crab (Cut into 4 pieces per crab)
2 tablespoon cooking oil (30ml / 1oz)
Product of Singapore
Method
1. Steam crab for 5mins and drain off excess liquid.
2. Add oil in pre-heated wok.
3. Add in spices and stir fry for 1 min. Turn off fire. Add in crab and stir fry for another 1 min. Serve hot.
Product of Singapore
Related Products
© Asian Food 4 U. All Rights Reserved. Web Design by KOOK