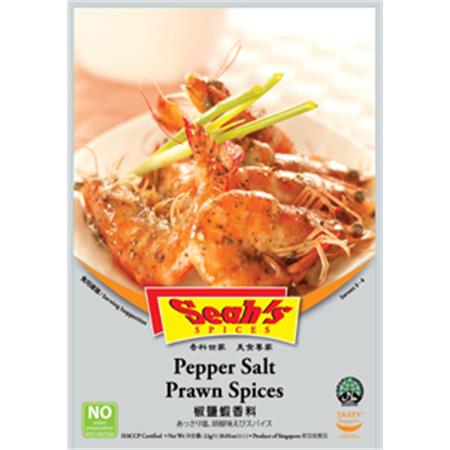 Seah's Pepper Salt Prawn Spices 23g
Category: Malaysian & Singaporean
$3.08
Tango mix of spices that adds savory spiciness to your favorite prawns or bean curds.
Preparation
1 packet of spices
600g prawns
3 tablespoons cooking oil (37.5ml / 1.5oz)
Method
1. Add oil in pre-heated wok.
2. Stir fry prawns evenly till 75% cooked.
3. Add spices evenly and continue to stir fry for 1 min till fully cooked. Serve hot.
Other cooking suggestions:
Stir fry 800g bean curd cubes with spices only. Garnish with spring onion, parsley leaves and red chilli.
Product of Singapore
Related Products
© Asian Food 4 U. All Rights Reserved. Web Design by KOOK