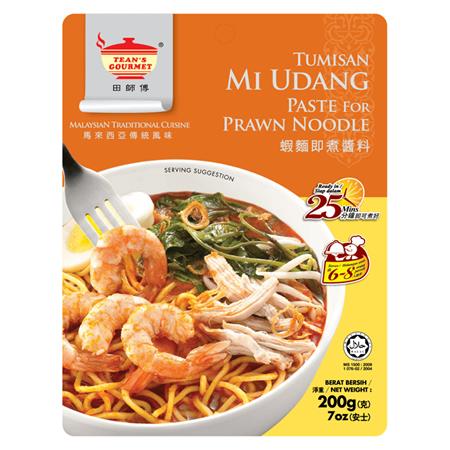 Tean's Gourmet Mi Udang 200g
Category: Malaysian & Singaporean
$3.98
Paste for Prawn Noodle
Pre-cooked pastes that form the base of your favourite dishes, commonly known as the "rempah". Some are great as-is, while others just need the addition of meat, santan (coconut milk), oil, vegetables, or potatoes.
Cooking Instructions:
Mix 1 packet of TEAN'S GOURMET Paste for Prawn Noodle (200g) with 1.5 litres of water. Bring to boil and keep boiling under low fire.
Blanch 600g fresh yellow noodles and 60g bean sprouts in boiling water, and divide into 6 bowls (6 portions).
Add in slices of cooked meat and prawns, hard-boiled egg, fried shallots and spring onions.
Add in the hot prawn noodle soup into each bowls. Serve hot.
将1包田师傅虾面即煮酱料(200克)掺入1.5公升水搅匀煮滚,继续以小火慢煮。
用沸水煮600克黄面和60克豆芽,放入6只大碗(6份)。
加入熟肉片,虾,熟鸡蛋,炸葱及青葱。
加入煮滚的虾面沙汤。趁热食用。
Product of Malaysia
Related Products
© Asian Food 4 U. All Rights Reserved. Web Design by KOOK