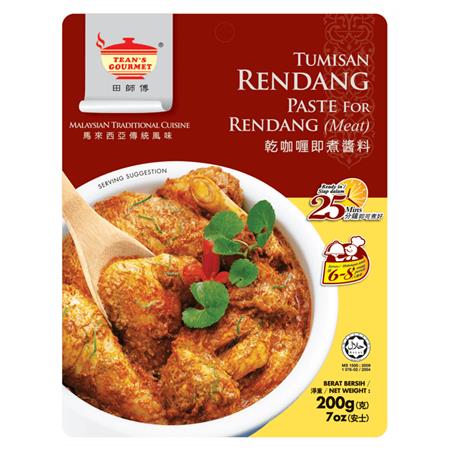 Tean's Gourmet Rendang Paste for Meat 200g
Category: Malaysian & Singaporean
$4.51
Dry Curry Paste for Meat (Rendang)
Pre-cooked pastes that form the base of your favourite dishes, commonly known as the "rempah". Some are great as-is, while others just need the addition of meat, santan (coconut milk), oil, vegetables, or potatoes.
Cooking Instructions:
Pour in the TEAN'S GOURMET Dry Curry Paste for Meat (Rendang) (200g) and cooking oil, heat up and stir. Bring to boil.
Add in chicken meat and stir fry slowly for about 10 minutes.
Add in coconut milk and bring to boil.
Add in water and bring to boil. Continue to boil for 8 minutes in medium fire.
Once the gravy starts to thicken, add in fried desiccated coconut and stir for 3 minutes. Serve hot.

倒入1包田师傅干咖喱即煮酱料(200g)及食用油,加热和搅拌 , 煮滚。
加入鸡肉及缓慢翻炒约10分钟。
加入椰奶后搅均匀煮滚。
加入水煮滚,以中火继续煮8分钟。
一旦肉汁开始变稠,加入炒椰丝及搅拌3分钟。趁热食用。
Product of Malaysia
Related Products
© Asian Food 4 U. All Rights Reserved. Web Design by KOOK